UE4 Smoothed Normal from Line Trace in Packaged Builds
---
gamedev
programming
ue4
I needed a way to get a smoothed surface normal from a line trace in Unreal Engine 4. So of course the first thing I did was research the topic. I found a lot of good resources that I linked at the bottom of this post. However none of the forum posts mentioned the solution to accessing mesh data in a packaged build. This might've been because I was searching the wrong keywords. I included my code to calculate the interpolated surface normal for both Static Meshes and Spline Meshes in Unreal Engine 4.
Most of the resources I found were talking about getting UV coordinates for a Line Trace hit. And many didn't consider Spline Meshes at all which is my primary usecase. And one important thing I didn't find mentioned anywhere is that you need to enable Allow CPUAccess on static meshes that you want to access during runtime in a packaged build. I found that one while digging through the source code, although it's a pretty obvious thing in hindsight.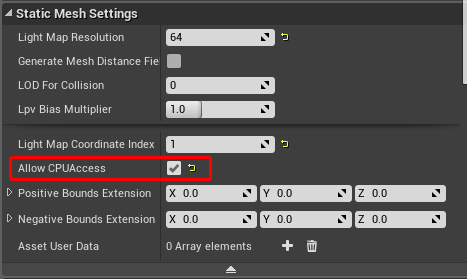 To be able to access mesh data in a packaged build bAllowCPUAccess must to be set to true.
The following code is part of my static c++ function library. It accepts a FHitResult reference and calculates an interpolated normal based on the triangle that was hit. This works for both Static Mesh as well as Spline Mesh Components. However this code is by no means perfect and I am sure there is a lot that could be improved.
Resources used: